Collaborating partners
University of Ljubljana, Faculty of Computer and Information Science
Proxima d.o.o.
Researchers

ciril_bohak
peter_mlakar
Summary in English
Tradition meets the future - computer vision and enriched reality for the preservation and promotion of natural and cultural heritage
In addition to the traditional and already established methods for promotion of natural and cultural heritage, it is also worthwhile to introduce innovative communication methods that are close to the modern way of life. Within the project, we have developed an innovative solution based on mobile computer vision and augmented reality, which presents the tradition of viticulture and wine growing in Vipava valley with the technology of the future. We have developed a prototype of an Android mobile application and a content management system that enable efficient and attractive communication of relevant information. We have developed a mobile application for automatic recognition of wine bottle labels, which offers additional information, collected with the developed content management system. For selected autochthonous wine varieties, the mobile application also displays additional animations in the augmented-reality mode that contain 3D models built with a system that has also been developed within the framework of the project. In this way, the individual elements of natural and cultural heritage are even more exposed and better communicated to the public.
Opis problema
Poleg tradicionalnih že uveljavljenih načinov za promocijo naravne in kulturne dediščine je smiselno uporabljati tudi metode posredovanja informacij, ki so blizu sodobnemu človeku in njegovemu načinu življenja. V sklopu projekta smo tako razvili sodobno rešitev, temelječo na mobilnem računalniškem vidu in obogateni resničnosti, ki se približa modernemu človeku in mu s tehnologijo prihodnosti predstavi tradicijo. Za demonstracijo uporabe tega principa smo si izbrali specifičen segment ohranjanja naravne in kulturne dediščine, povezanega s trsničarstvom, vinogradništvom in vinarstvom, ki ima v Vipavski dolini zelo dolgo in bogato tradicijo. Kot aplikativno domeno smo si tako izbrali vinoteko, ki predstavlja realno in hkrati dovolj urejeno okolje, kjer lahko prednosti uporabe mobilnega računalniškega vida pridejo še posebej do izraza.
Rezultati
Razvili smo prototip mobilne aplikacije za operacijski sistem Android ter sistema za upravljanje s podatki, ki omogočata učinkovito in atraktivno posredovanje informacij s pomočjo računalniškega vida in obogatene resničnosti. Razvili smo avtomatsko razpoznavanje etiket na steklenicah, ki tako po prepoznavi v mobilni aplikaciji ponudi dodatne informacije, zbrane z razvitim sistemom za upravljanje s podatki. Za izbrana vina, povezana z avtohtonimi vinskimi sortami, mobilna aplikacija omogoča tudi prikaz dodatnih animacij v načinu obogatene resničnosti, ki vsebujejo 3D modele zgrajene s sistemom, ki je bil ravno tako razvit v okviru projekta. Na ta način se torej še bolj izpostavi oz. bolj atraktivno komunicira posamezne elemente naravne in kulturne dediščine.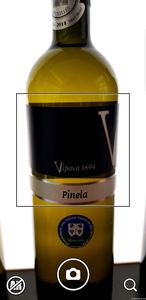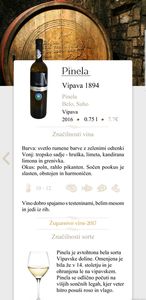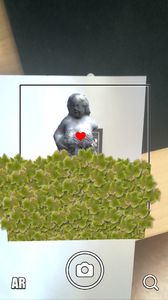 Rezultati projekta so bolj podrobno opisani v zaključnem poročilu.
Zahvala

Naložbo financirata Republika Slovenija in Evropska unija iz Evropskega socialnega sklada v okviru razpisa "Po kreativni poti do znanja (PKP) 2017 - 2020".